Daniel C. Sartor

(dark)

by Dennis Cruz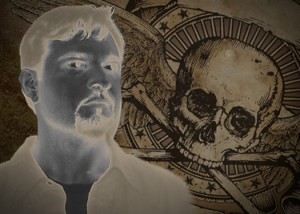 Hailing from Royal Oak Michigan, Daniel received his formal education from Michigan State University. Though earning a bachelor's degree of science in Physics, his hunger for knowledge led his curiosity in many directions, eventually guiding him toward a path in the arts. The rest is history.
As fate would have it, Daniel was introduced to the world of tattooing. Gaining an apprenticeship at a local Lansing tattoo shop, and adopting the moniker "DARK", it wasn't long before Dark began excelling in this medium and tattooing full time. His work was well received and notoriety was quick to follow. Many of his pieces were soon published in various international tattoo magazines and he also began collecting awards from many prestigious tattoo conventions and competitions. Mining his interest in physics, art, philosophy and the human condition, Dark has been able to reference years of experience in every tattoo he creates.  Always looking to elevate and refine his craft, Dark relentlessly explores all facets of tattooing techniques and advances, frequenting seminars and lectures that inform and continue to keep his work on the cutting edge of the constantly evolving world of tattoo art. Dark is also extensively trained in disease transmission prevention and advanced sterilization methods, via yearly seminars at County Health Departments and The American Red Cross.
Tattooing his way from Michigan to California, Dark has held his work to the highest possible aesthetic and one major principle: to realize beauty. And just as the definition of beauty is different for every client, so is the mood and feel of every one of Dark's tattoos. Varying in style, size, imagination and scope, his work encapsulates an exploration of life itself. Bringing an unbridled passion and commitment to every design, Dark has set himself apart from the assembly-line attitude that has become so prevalent in the every growing industry of tattoo art. It's this commitment to craft, and devotion to artistry that has placed him at the forefront of his profession and garnered him the respect and admiration of both his peers and his loyal clients.
Now residing in Los Angeles, California, Dark spends much of his free time exploring other mediums that help to keep his channels of expression open, and fresh. Also an accomplished musician and painter, his enthusiasm to create and understand the world around him resonates in his work, which is often moving, daring, and unapologetically honest.  As this client will attest, to work with Dark is to take a leap into the abyss and emerge transformed. As it should be.
Articles, publications and appearances:
The Real Housewives of Beverly Hills' (season4, episode 13) Jan 2014
Inked Magazine: Sept. 2012
Inked Magazine: Aug. 2011
L.A. Weekly: Jun. 2010
The District: Feb. 2010
Nintendo Power Magazine: Jan 2006
In Touch Weekly: Nov. 2004
Bay TV (KRON 4) interview on "The Show" originally aired August 2000
San Francisco Chronicle, full-page article, June 2, 2000
http://sfgate.com/cgi-bin/article.cgi?f=/chronicle/a/2000/06/02/WB71282.DTL
Outlaw Biker Tattoo Revue #55, 1996 four-page article.
Tattoo Savage #6, 1995 cover and article
Tattoos For Men #2, 1994 cover
Various Tattoos published in:
Skin Art
Tattoos for Men
International Tattoo Art
Tattoos for Women